Lawyers of Distinction Welcomes Dennis G. Dozier, Sr.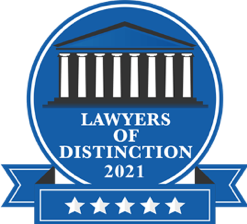 The Lawyers of Distinction is pleased to announce that Dennis G. Dozier, Sr. of Rincon, GA has been certified as a distinguished member of our organization. The Lawyers of Distinction is recognized as the fastest growing community of distinguished lawyers in the United States. Members are accepted based upon objective evaluation of an attorney's qualifications, license, reputation, experience, and disciplinary history.
Dennis G. Dozier, Sr. has been practicing law in Effingham County Georgia for over 26 years. Law was not Dennis' first career choice. After relocating to Georgia from Virginia Beach in 1972, he attended Georgia Southern University, where he obtained a Bachelor of Science Degree in Economics in 1976. He later earned his Master of Business Administration Degree from the University of Georgia. After graduating, Dennis managed his father-in-law's agribusiness firm in Southwest Georgia for over 11 years. Dennis then looked toward the field of law, enrolling in the University of Georgia's School of Law. In 1995 Dennis began practicing at The Ratchford Firm before starting his own practice in 1999.
From the start, Dennis knew the need to incorporate strong character, conviction, and commitment to principled behavior into his business. To this day, the DOZIER LAW, P.C. team takes pride in reflecting dignity, honor, respect, and integrity. "We always stay with the truth," Dennis commented.
He agrees that a lawyer's job is much different than what the public may perceive, largely due to the questionable actions of those who have made dishonorable practices commonplace; these actions shamelessly tear away at the very foundation on which the entire U.S. justice system is built.
Dennis and his team know that it is all about people - helping with their issues in the best ways possible. Over the years, Dennis has assisted a multitude of clients, including those seeking help with domestic issues, criminal problems, divorce, personal injury, financial problems, and estate planning.
Dennis summarized his practice of law as, "I love what I'm doing—helping ordinary people solve not so ordinary problems."
Lawyers of Distinction
Profile Link:
www.thelawyersofdistinction.com/profile/dennis-dozier/
###
Lawyers of Distinction uses its own independent criteria, including both objective and subjective factors in determining if an attorney can be recognized as a Lawyer of Distinction in the United States in their respective field. This designation is based upon the proprietary analysis of the Lawyers of Distinction organization alone and is not intended to be endorsed by any of the 50 United States Bar Associations or The District of Columbia Bar Association.