About Dozier Law
Dozier Law P.C. is located at 430 Silverwood Centre Drive in Rincon, Georgia. Dennis Dozier Sr. has been practicing law for over twenty-five years and founded the firm in 1999.
Dozier Law P.C. is dedicated to helping people solve day-to-day legal issues, from simple to complex and small to large. We focus in the following areas of the law:
Family Law, for people with domestic issues
Bankruptcy Law, for people with financial issues
Personal Injury, for people who have been injured in an accident
Criminal Defense Law, for people charged with misdemeanors and/or felonies
Wills, Trusts & Estates, for people who want to ensure an orderly transition of assets
Civil Litigation, for people facing business or property disputes
The attorneys of Dozier Law P.C. are committed to providing legal support that delivers the best possible results for our clients. We have a friendly and experienced staff who provide legal and administrative support across all of the areas of practice.
Dozier Law P.C. maintains state of the art technology to provide efficient and cost-effective services and representation. Importantly, we represent our clients with a personal touch, never losing sight of the human side of the work we do.
Schedule Your Consultation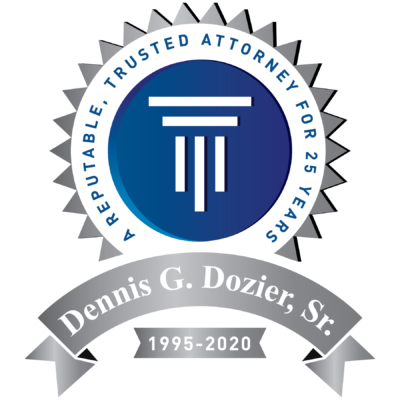 There is more to the DOZIER LAW, P.C. logo than meets the eye. If you look close enough, you'll see a law firm built with determination and forged in fire, a law firm full of energy, activity, creativity, passion, level-headedness, stamina, stability, strength, helpfulness, determination and confidence.
Dozier Law P.C. has been providing legal services to residents of the Coastal Empire for over 20 years. The firm is focused in the following areas of the law: Family Law, Bankruptcy Law, Personal Injury, Criminal Law, Wills, Trusts and Estates Law, and Civil Litigation.

Dennis and Jacklyn are such a wonderful ass-kicking duo. They fought long and hard to win my case and got me a great settlement. I could not have asked for a better lawyer to represent me and accurately voice my pain. He's the best in the area!

I am very happy that I chose Dozier Law to represent me in my personal injury case. The whole staff were very supportive and informative, I never had to wait long to get a return email or phone call. In what could've been a highly stressful situation, everything was handled for me in a timely and professional manner. I would definitely go with Dozier again should I be in a situation to need to.

With three insurance companies and multiple medical care providers to deal with, our claim required an attorney willing to put in the long hours and remain tenacious in the face of multiple frustrations. Dennis's firm negotiated a timely settlement exceeding our monetary expectations. This claim was the second matter the Dozier law firm has helped my wife and I with. Dennis and Adam are genuine are truly care about their clients.

Mr Dozier is an excellent attorney. He is very thorough and we could not have been any happier with his efforts. Our adoption was not a smooth cut and dry adoption, but rather contested and trying one. Mr Dozier was confident and dedicated every step of the way. He made sure we were thoroughly prepared every step of the way. Any time we had questions or even just needed to meet quickly once we had new evidence that was found, he was readily available. He was honest and reassuring with us through the whole process. I must say at times I would get discouraged because of the situation at hand, but when Mr Dozier presented our case to the courts I felt confident we would win. In the end we won our case because of his expertise, dedication and hard work. Anyone would be blessed to have Mr Dozier on their side!

Mr. Dozier has been my attorney for a few years. He has always shown 100% interest in my case and has been very professional with me. Mr. Dozier is always prepared for court and has always had my best interest at hand. I was very impressed with how prepared he was and the effort he put forward for me and my family. After two separate court appearances, I'm scheduled for my third, and feel quite confident that the outcome will be the same as prior appearances. Trust me when I say you will NOT be disappointed in Mr. Dozier and his team.

Took my case worked very hard and I am please other lawyers didn't even here my concern's.

I hired Dennis and his team for my bankruptcy. He helped save my house from foreclosure and I cannot thank him enough. He is very knowledgeable and you will not be disappointed.

He and his staff were very attentive to my needs and looked out for my best interest.

Mr. Dozier has been retained by myself and my wife on a few occasions. He has helped us navigate through heated custody disputes with former spouses and has been able to deliver on every promise. Mr. Dozier doesn't make promises he doesn't keep and will be honest with you about the case from day one. Too many attorneys promise the world and leave you standing wondering what happened to your life and penniless. I highly respect Mr. Dozier as an attorney and as a person. I'd gladly use him in any legal matter that required representation.

Dennis was very respectable throughout the entire (in my case, 4 months) process. He was very prompt in returning phone calls, emails, and handling other issues. His paralegal, Jaclyn, is very informative and answers promptly as well. All around amazing office to work with. Successful encounter.

Dennis handled my very difficult divorce in a competent and caring manner. He kept me grounded, and realistic in my expectations but constantly reassured me the outcome would be manageable. He handled the opposing lawyer with courtesy and tenacity based on a strong understanding of process and the law. In the end he was one of the significant reason a settlement agreement was reached prior to the court case. Dennis is a good man with strong Christian values who you can trust!

Both Dennis and his staff were a pleasure to work with. Everyone acted in a very professional manner, and worked efficiently to get my case resolved.

Thanks Dennis for guiding me and my wife through a very difficult time in our life. Your warm understanding and experience will never be forgot.

Walter D. Mock,

AVVO Review

I recommend Dennis Dozier ' s Law Firm to everyone in need of a great attorney that really listens and cares about your financial needs. Mr. Dozier and his members of his firm really helped me when I was in need of an attorney during a rough time in my life. They were really there for me. Thanks once again for all your hard work and for all you do.

If you're looking for a good honest lawyer Dennis Dozier is the lawyer for you.

He handled our business with wonderful care and over the years we have always received great customer service. I would recommend him to anyone.

I hired Dennis Dozier as my Divorce Lawyer. With his help and expertise I was awarded primary custody of my daughter. Dennis and his staff (Jacklyn) were amazing. They assisted with gathering all of the data and evidence I needed. He was very knowledgeable and answered all of my questions. During my custody hearing, I found that my legal team was over prepared and the defendant was not. This made my case very easy to settle. I'd like to thank the Dozier Law Firm for all their hard work.

Mr. Dozier presented my request for a divorce to the Effingham County Courts and did everything that was required to get my divorce. I highly recommend Mr. Dozier to anyone who need an attorney.