About Dozier Law
Dozier Law, P.C. is located at 430 Silverwood Centre Drive in Rincon, GA. It is wheelchair accessible. In addition to Dennis Dozier, who has over twenty years of experience, the firm employs a friendly and competent support staff.
At Dozier Law, P.C., we're dedicated to helping people solve day-to-day problems, whatever those problems may be. We pride ourselves in our ability and commitment to help...
people with domestic problems (family law)
people with financial difficulties (bankruptcy law)
people charged with misdemeanors and/or felonies (criminal law)
people who have been injured in an accident (personal injury)
people who need assistance after the death of a loved one (estate law)
Dozier Law, P.C. maintains state of the art technology to provide clients with cost-effective representation, never losing sight of the human side of legal representation.
Learn More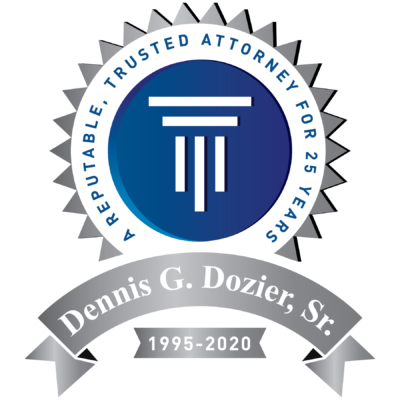 There is more to the DOZIER LAW, P.C. logo than meets the eye. If you look close enough, you'll see a law firm built with determination and forged in fire, a law firm full of energy, activity, creativity, passion, level-headedness, stamina, stability, strength, helpfulness, determination and confidence.
DOZIER LAW, P.C. has been providing legal services to residents of the Coastal Empire for over 25 years.

Thanks Dennis for guiding me and my wife through a very difficult time in our life. Your warm understanding and experience will never be forgot.

Dennis and Jacklyn are such a wonderful ass-kicking duo. They fought long and hard to win my case and got me a great settlement. I could not have asked for a better lawyer to represent me and accurately voice my pain. He's the best in the area!

Dennis handled my very difficult divorce in a competent and caring manner. He kept me grounded, and realistic in my expectations but constantly reassured me the outcome would be manageable. He handled the opposing lawyer with courtesy and tenacity based on a strong understanding of process and the law. In the end he was one of the significant reason a settlement agreement was reached prior to the court case. Dennis is a good man with strong Christian values who you can trust!

Dennis was very respectable throughout the entire (in my case, 4 months) process. He was very prompt in returning phone calls, emails, and handling other issues. His paralegal, Jaclyn, is very informative and answers promptly as well. All around amazing office to work with. Successful encounter.

Mr Dozier is an excellent attorney. He is very thorough and we could not have been any happier with his efforts. Our adoption was not a smooth cut and dry adoption, but rather contested and trying one. Mr Dozier was confident and dedicated every step of the way. He made sure we were thoroughly prepared every step of the way. Any time we had questions or even just needed to meet quickly once we had new evidence that was found, he was readily available. He was honest and reassuring with us through the whole process. I must say at times I would get discouraged because of the situation at hand, but when Mr Dozier presented our case to the courts I felt confident we would win. In the end we won our case because of his expertise, dedication and hard work. Anyone would be blessed to have Mr Dozier on their side!

Mr. Dennis has helped me with a few legal problems, he is always willing to listen and find solutions. He and his staff are great people!